Pipe & Vent Flares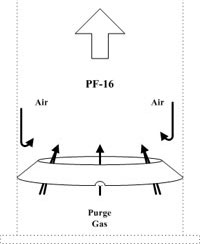 The GBA-Corona PF Pipe Flare offers an economical way to safely dispose of waste gas streams. These flares also incorporate features that enhance both performance and longevity.
Providing reliable electronic or flame front pilots completes the pipe flare package.
The standard GBA-Corona PF flare includes wind deflectors that break up the low-pressure region on the down wind side of the flare. This reduces flame lick and leads to greatly extended life. Other features that can be provided include flame stabilizers ( for high velocity streams or low heating value gases ) and "air lock" purge reduction seals.
For low-pressure systems, GBA-Corona can offer a simple PF-V pipe vent. To increase safety, an "air lock" purge reduction seal is normally included.
When pressure is available, the CSF-V sonic vents provide reduced radiation in the event of accidental ignition. And, because of the high rate of air entrapment, the dispersion characteristics are superior to a low velocity vent